Uobei in Shibuya : Modern revolving sushi! Fresh fish, fresh sushi at an economical price!
Uobei in Shibuya : Modern revolving sushi! Fresh fish, fresh sushi at an economical price!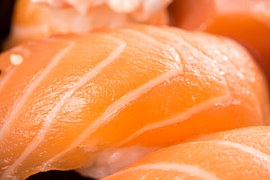 The Sushi bar "Uobei" is located at Dogenzaka in the Shibuya area of Tokyo.
They serve sushi made of fresh rice and fish at a reasonable price.
Although it has the appearance of "kaiten-zushi" where sushi turns around on a conveyor belt,
you can also older at your table using a touch panel, or Android tablet device.
The main attraction of this restaurant is the "triple-lane" system.
Uobei has introduced the system for the first time in the industry – there are three layers of high-speed conveyors carrying sushi. Like a sushi highway!
This may be the model for all sushi bars in the future.
Very modern, and very much meets the needs of the present lifestyle.
As sushi comes right after placing an order, you can enjoy eating sushi when in a rush.
The speed of the express sushi lane is much, much faster then the normal one.
Every item 108 yen. Simple and reasonable.
Only have seats at the bar.
Help yourself to tea cup, soy sauce and Wasabi (green horseradish paste).
Take a dish together with item (don't take sushi or soup bowl alone).
The restaurant also has a menu such kid-friendly item as "Wiener sushi," a sausage on rice with vinegar.
There are not only standard sushi items but also various side menus such as noodle, fried food and dessert.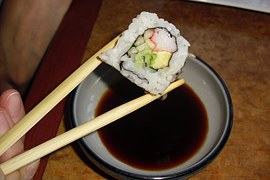 The ordering system with Android tablet device is very unique.
It is foreigner-friendly as well because the system accommodates multiple languages.
When you visit Shibuya and feel like eating sushi, then go to "Uobei!"
Shop Info
Contact: 03-3462-0241
Adress: The 6th Cenrtal Bldg. 1F
Dogenzaka 2-29-11
Shibuya Ward, Tokyo
Transport: Subway: Hanzomon Line
One minute on foot from exit 1 of Shibuya St.
Opening Hours: Mon-Sun 11:00-24:00 (Last Call:23:30)
Let's Go To Uobei!
[map addr="東京都渋谷区道玄坂2-29-11″ width="600px" height="400px"]