Tsurugajo -the only one castle in Japan today with red tile roofs in Aizu Wakamatsu seen also by Byakkotai samurai
Tsurugajo -the only one castle in Japan today with red tile roofs in Aizu Wakamatsu seen also by Byakkotai samurai
Aizu Wakamatsu is one of the famous sightseeing places in Japan.
Speaking of Aizu Wakamatsu, a popular tourist area is Tsurugajo castle.
It is well known as the castle survived the ruthless attack for a month in the Boshin War in 1868.
6 years after the war, Tsurugajo was demolished by the Meiji government.
The castle was re-established in 1965, and then in 2001 Aizu Wakamatsu City restored "Hoshii-yagura," a food storage, and "Minamihashiri-nagaya," which is said to be an arsenal or a fortress.
These two buildings are connecting to the tenshukaku, the main keep of the castle.
Furthermore, there is a museum inside of the main keep which provides a good opportunity to learn the history of Aizu Wakamatsu.
Tsurugajo now recollects the image of last days of Tokugawa shogunate as all the tiles had been changed to red ones 4 years ago.
It is the only castle that has a main keep with red tiles in Japan, and a place worth visiting.
Note: Tenshukaku is not the castle itself, but only one part of the castle. A main keep is the highest and largest watch-tower of a castle constructed during the Azuchi-Momoyama period to Edo period.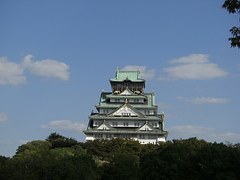 Address: Outemachi1-1
Aizu Wakamatsu City, Fukushima
[map addr="福島県会津若松市追手町1-1″ width="600px" height="400px"]
Phone: 0242-23-8000 (Aizuwakamatsu Tourism Bureau)
Hour: 8:30-17:00 (Last admission is 30 minutes before closing)
Holiday: None
Admission: Adult 410yen, Child 150yen
(Ticket for both the castle and Rinkaku Tea Cottage: Adult 510yen)
Transportation: Classic Town Bus "Haikara-san" or "Akabe"
5 minutes on foot from the "Tsurugajo Iriguchi" bus stop
Banetsu Expressway
15 minutes from the Aizuwakamatsu I.C.
HP
http://www.tsurugajo.com/
This is Turugajou Projection Mapping!