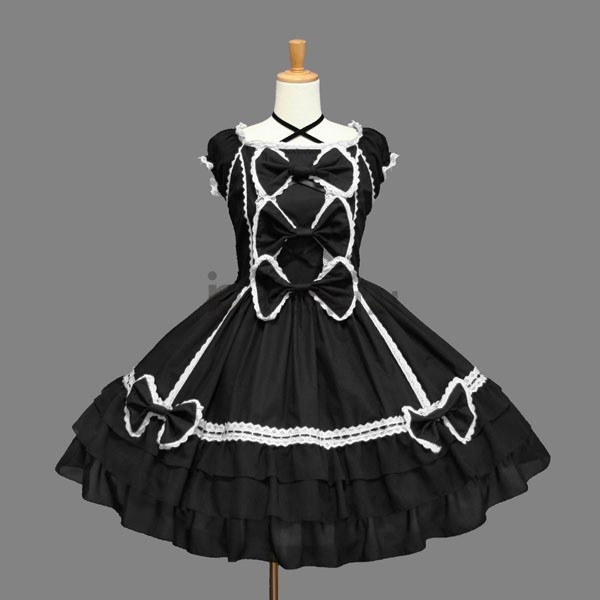 When you go around Harajuku, you would see some girls in peculiar fashion.
They look like maids working in a mansion wearing pretty black and white costume with a lot of frills and lace.
These eccentric and outstanding clothes are called "Lolita Fashion" and it expresses girls' innocent and impish beauty. Actually this fashion created in Japan is noticed even by overseas countries and some people in those countries seem to be attracted and trying it.
Lolita fashion looks so unique. And once you tried it, you would look innocent and pretty right away! Those who love or put on this fashion are called "Lolita". Those clothes are sometimes said to be girly clothes for adults.
Lolita fashion is street fashion. It originated in Western culture and its originality made up a new genre with having old style at the same time.
The creation of this kind of fashion may be one of the reasons why tourists often say Japanese people are "fashionable" or "cute".
●Why "Lolita" ?
Didn't you think "what's the Lolita from?" ? Lolita came from the nickname of the heroine in a novel written by Vladimir Nabokov and published in 1958 in the US.
Lolita is one of the nicknames of 12-year-old pretty girl named Dolores Hayes who was loved by a middle-aged man at first sight and teased him in that novel. She is also called "Dolly" or "Lo" in that story.
And in addition, somebody who has special affection for early teens is sometimes said to have "Lolita complex" from this novel.
The girl named Dolores who was loved by a middle-aged man at first sight is written as a little enchantress with a bewitching fascination as a girl. She caught the heart of middle-aged literator Humbert Humbert and gradually brought him to ruin.
Nabokov defined "Lolita" in detail as a young girl whose behavior and looks should be impish and fairylike. But in Japan, "Lolita" is defined as "a lady who is fascinating by her young face though actually she is already an adult" or "a girl who is really far from dirtiness".
Let's make the Lolita clothes!
You can try Lolita fashion in Tokyo!↓
Lolita Taiken Salon "Maison de Julietta" (Harajuku, Tokyo)
Not only you can try Lolita fashion, but also the professional cameraman will take your picture!!