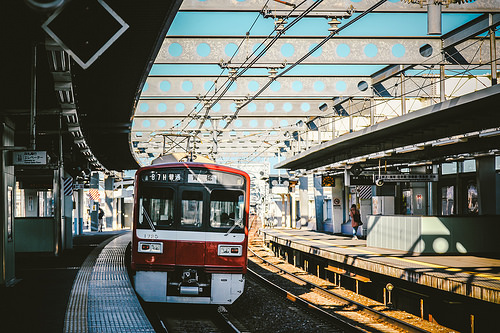 "The train" is used a lot by a Japanese means of transportation.
In the downtown area with much traffic, the movement by car is great.
I cannot often arrive at the destination on time.
As the train works on time, it is indispensable to life.
And the Japanese railroad is praised highly very much abroad.
Have you seen Japanese commuter rush?
It is famous by being crowded very much.
The platform of the station becomes full of an office worker and students.
As for the time that many people take advantage of, it is serious.
A train is run every 1-2 minutes.
The foreigner is surprised at a train coming over in sequence.
And there are very few delays.
This is the place where the Japanese train is splendid.
Without a special accident, the train comes over to the platform according to timetable.
The foreigner who visited Japan is surprised at the accuracy.
And there is service only in Japan in the home.
An electric signboard is installed in the platform.
The information of the forthcoming train and current service information are displayed next.
It seems to be Japan to be able to tell carefully to here.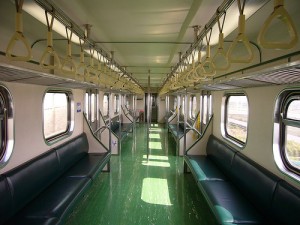 It is also the other.
"The Shinkansen" which represents a Japanese railroad.
There is the high-speed railway system in the other countries.
A Japanese develops this technique, and it is a beginning that I was opened.
The Shinkansen is proud of the high safety and speed.
The Shinkansen has few delays.
Approximately 120,000 a year Tokaido Shinkansens run.
The annual mean delay line is 36 seconds! Splendid.
The cleaning team where is specialized in the Shinkansen is necessary to keep correct service time.
It takes only 12 minutes for the stoppage time at Tokyo Station.
The dustman puts getting on and off time and must do all cleaning in seven minutes.
22 one team does role allotment each.
I clean alone the vehicle which there are approximately 100 seats.
Speed and the accuracy of dustmen are really great.
This team ends cleaning in seven minutes.
Therefore the Shinkansen can run without delaying.
And the Shinkansen stops without slipping off at the stop position of the home.
This is the skill not to be readily seen in other countries, too.
And the Shinkansen is safe 100% of the passenger.
A fatal accident is 0 cases more than 50 years after it is opened the Shinkansen.
There are many mountains in Japan.
In brief, there are many points where a track curves to.
The Japanese technique has a technique to run comfortably without shaking without cutting down on speed.
In late years a person concerned with train service of each country comes for inspection to imitate this technique.
The railroad which had a technique and high accuracy of Japan may be operated in the world.