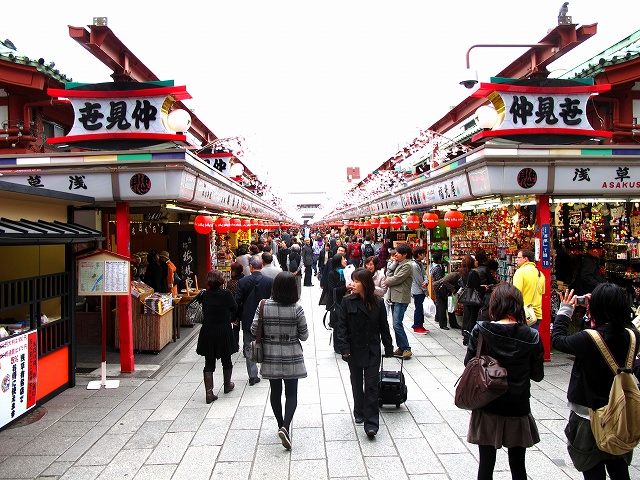 The Asakusa "Nakamise street" is a mall of 250m following Senso-ji Temple from Kaminari-mon Gate.
It is an old mall of the history in Japan following from the Edo era.
A cake, an industrial art object, a lot of Japanese traditional souvenirs line up.
I rise and am full of the vigor only in the downtown area.
There are the tourist from the foreign countries, domestic school excursion life, a lot of tourists.
Shops more than 90 stand.
I do not know what the first person should buy where.
The tourist who came from the foreign countries may be in trouble.
When I came to the Asakusa "Nakamise Street", I select carefully and will introduce the shop where you should stop at!
The details about AsakusaThis pageUnder an introduction.
・The Kimura-ya home office (Ningyo-yaki)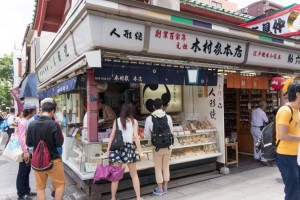 It is a well-known store of Ningyo-yaki founded in 1868 when it is the oldest in Asakusa!
A signboard of "ancestor ningyo-yaki" is a mark.
Other than doll firing of four form of pigeon, lantern, thunder state, Five Storeyed Pagoda, the tile-shaped rice-crackers are sold, too.
・Asakusa kibidango Azuma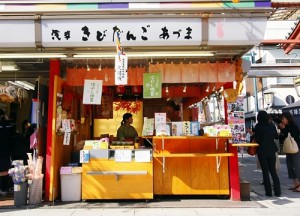 It is a shop of classic "kibidango".
This shop reproduces kibidango which existed in the Edo era and I demonstrate it and sell it.
It is 330 yen with five. 10,000 seem to sell in a day on many days, too!
"Cold water Matcha" can taste "the sweet alcoholic drink made from sake lees in winter in summer, too".
I will eat with a set by all means.
・Asakusa cho-chin monaka (ice bean-jam-filled wafers)


It is a specialty store of monaka.
I eat across the ice in lantern-shaped bean-jam-filled wafers.
The classic taste "vanilla, Matcha, adzuki bean, deep red potato, black sesame, kinako."
Season-limited mango, coconut….The kind of the ice is abundant, too.
As he/she sandwiches the ice after ordering it, I can taste the crunchy delicious middle.
Besides, there are a lot of shops selling a famous long-established store, a delicious shop, rare goods.
At first I am reliable if I check these 3 stores.
The cake with the history is unexpectedly reasonable!
It is good for a souvenir.
It is pleasant to share it with the person who came together, and to eat the way!
The Nakamise Street where a night shutter closed is recommended.
The picture scroll of the annual event of Asakusa is drawn to the shutter which closed!
In the night when I closed such a shop, the overflowing mall of the feeling to treat is right a heart of Japan.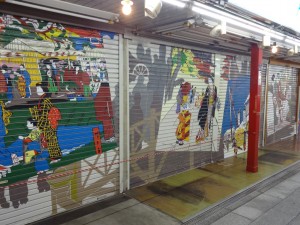 It is the powerful charm of "the Nakamise Street" to sense "I miss you" of Japan bodily.