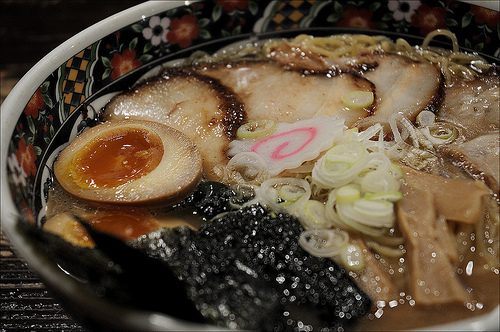 Ramen is Japan's comfort food. It is so popular that there's almost no Japanese who haven't tried it!
Due to the ramen boom these several years, more ramen shops have popped up as well as internet blogs introducing ramen.
Tokyo in particular is said to be the most competitive marketplace and crowded with ramen shops. There are many shops that have long lines going out the door everyday.
There are many kinds of  ramen soup like tonkotsu shouyu (Pork and Soy broth), "Baitang" (white chicken based broth), in addition to standard series of shoyu (soy sauce), miso and shio (salt), so you may confused in choosing what to eat. Though it's one of enjoyable points in eating ramen.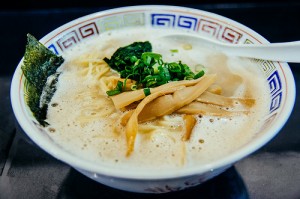 Originally ramen was a Chinese staple and Japanese people started to eat it in the Meiji period.
The roots of ramen come from the noodle dishes which were served in the Chinatowns built in the Meiji period in Yokohama, Kobe, Nagasaki, and Sapporo where harbors were opened in the late Edo period.
Those noodle dishes were changed to fit the Japanese palate and the dish became popular in the Taisho period, 105 years ago.
Its popularity and originality has gained it the title of being Japan's "national dish".
Now ramen is eaten all over the world, but only a few years ago, it was misconstrued as Chinese food or as fast food.
Sushi and tempura were more commonly recognized as Japanese food.
One catalyst for having ramen be recognized as Japanese food is the release of the 2015 Tokyo Michelin Guide.
To everyone's surprise, 22 ramen shops were included in the Michelin guide among upscale and well-known restaurants!
What triumph for the Ramen community, to be acknowledged by the Michelin guide!
In SHINYOKOHAMA RAMEN MUSEUM (Yokohama-shi, Kanagawa) and Tokyo Ramen Street (Yaesu Underground Exit of Tokyo Station), some famous ramen shops gather from all over Japan and serve bowls of ramen to a crowd of people. Some of them have appeared in the aforementioned Michelin Guide.
There are various kinds of ramen shops – make sure to come with an appetite and try a few restaurants!
If you want to try several kinds of ramen…
↓↓↓
RAMEN MUSEUM
Ramen Street