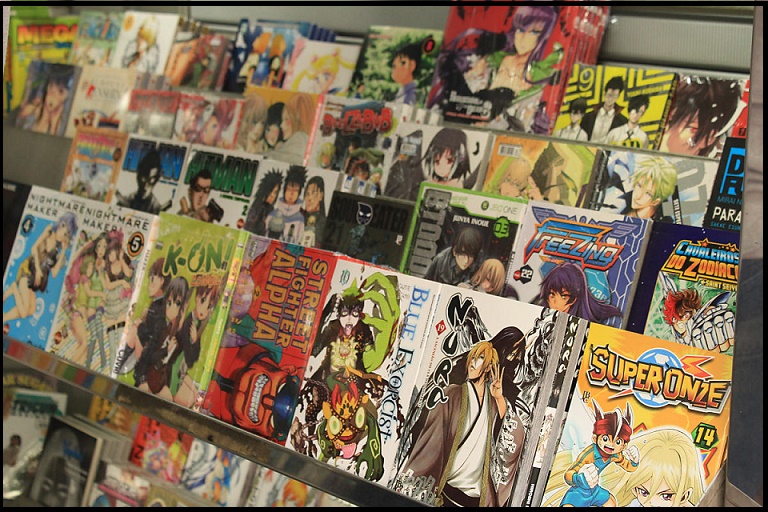 Japanese comics (manga) and cartoons (anime) are loved all over the world. There are many people who became interested in Japan because of manga and anime. There are more tourists these days who come to Japan wanting to go to Akihabara or wanting to participate in anime conventions.
Do you enjoy Japanese manga and anime?
Here is the overseas top 50 of the most popular manga and anime!
★50-31
50 Skip Beat!
49 Fushigi Yugi
48 Chrono Crusade
47 Trigun
46 Full Moon O Sagashite
45 Genshiken
44 Angel Sanctuary
43 Elfen Lied
42 Strawberry 100%
41 Battle Angel Alita
40 Black Cat
39 Fairy Tail
38 Neon Genesis Evangelion
37 D.N.Angel
36 NANA
35 Hikaru no Go
34 Hunter × Hunter
33 D.Gray-man
32 Kare Kano
31 AKIRA
Though old comics were ranked for a Japanese more than 30 years, I was surprised!
★30-11
30 Absolute Boyfriend
29 Hana-Kimi
28 Vampire Knight
27 20th Century Boys
26 Cardcaptor Sakura
25 xxxHOLiC
24 Gantz
23 Ouran High School Host Club
22 Claymore
21 Nausica of the Valley of the Wind
20 GTO
19 Inuyasha
18 Negima! Magister Negi Magi
17 Dragon Ball
16 Hellsing
15 Ranma 1/2
14 Yotsubato!
13 Monster
12 Tsubasa, RESERVoir CHRoNiCLE
11 Azumanga Daioh
There are many girls' comics!
The dragon ball is characteristic of there being many people seeing it on TV than comics.
Sorry to have kept you waiting.
★10-1
10 Chobits by CLAMP
To be frank, the work which does not penetrate that much in Japan.
Comics, the animation which was published serially by a weekly young magazine from 2000 – 2002.
9 One Piece by Eiichiro Oda
Filmization, a game became the social phenomenon in becoming it animation in Japan.
It is a famous work of the long piece adventure!
8 Rurouni Kenshin by Nobuhiro Watsuki
This is the fiction which I did on the stage of early Japan in the Meiji era.
But an organization and the events that existed such as Shinsengumi are incorporated well!
It is the atmosphere such as the historical drama for evolution of Japan.
There is the country broadcasted with a title called "Samurai X" by the animated version.
7 Berserk by Kentaro Miura
It is a cumbersome work, but will be a view of the world that even an overseas person is easy to read!
Popularity seems to be high in Europe in particular.
In the overseas review, a story is appreciated.
6 Love Hina by Takeshi Akamatsu
The genre that is more individual than overseas comics will contain these comics.
That is put in the library in the U.K., and is the most popular …
Comics of some Otaku origin.
5 Fruits Basket by Natsuki Takaya
The girls' comic which was published serially in "a flower and a dream" from 1998 – 2006.
The Japanese comic which is recommended for a beginner.
I can read in the WEB comics site.
4 Fullmetal Alchemist by Hiroshi Arakawa
This work has high popularity by the animation.
I can see it in British cable TV and NETFLIX!
It is popular from overseas Cosplayer!
3 Bleach by Taito Kubo
Popularity is high in an adventure thing of the weekly boy jump.
In addition, this work is popular among Cosplayer, too!
The samurai may be a point becoming higher of the admiration abroad!
2 Naruto by Masashi Kishimoto
This work was placed in the weekly boy jump for approximately 15 years and concluded in 2014.
All 700 episodes, books are graphic novels more than 70, too.
I am sold in countries more than 35 and publish it more than Part 100000000 only in foreign countries!
It will be a popular reason that a theme is a ninja.
1 Death Note by writer/Tsugumi Oba picture/Ken Obata.
"Death Note" that the person dies when I write the name.
The confrontation of a boy possessing this notebook and the world's best excellent detective.
Filmization and dramatization are done, and even a Japanese becomes the extreme popularity work.
I wrote the name of a friend and the teacher in Death Note which I made by oneself in the United States, and there seemed to be the news to be removed!
By the way, was your favorite Japanese comics, animation ranked?
The comics of the theme are foreign countries, and a "ninja" "samurai" seems to be easy to become popular basically.
I am glad when I have Japan be interested even from comics and animation!
In addition, I think that it is wonderful to come to like the same thing across a border!
Photo by 話題のニュースを集めてみました。